Latvian Memorial Park in the Catskills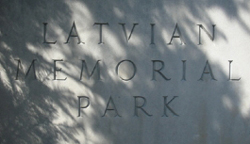 The Latvian Memorial Park is a Latvian Cemetery in the Catskills - a final resting place and memorial. It was established by the Latvian Disabled Veterans Association in the 1960os. The cemetery has urn spaces in niches (3 sections), in-ground urn spaces (1 section) and burial plots (limited selection of burial plots). The cemetery does its best to keep the ground neat and inviting - please come visit us!

Organized burial ceremonies take place twice a year: at the end of May (Memorial Day weekend) and in the fall. The fall ceremony in 2021 took place Saturday and Sunday, October 2/3. It was different than traditionally, each urn blessing ceremony was separate with an appointed time. We are planning the spring 2022 ceremony for May 28/29. We will be having the candlelight service on Saturday but a shorter service 1.30 pm on Sunday. Due to the positive response from the previous two ceremonies, the urn blessing ceremonies will continue be individual, by appointment. To secure an appointment, please write info@latvianmemorialpark.org or call! We suggest all attendees to observe social distancing (6 ft. / 2 m) rules and wear masks. Ceremonies are led by Deacon Linda Sniedze-Taggart. The fall ceremony for 2022 is planned for Columbus Day weekend Ocrtober 8 and 9, 2022.
The board of the Latvian Memorial park always encourages visitors, however, due to COVID for the times of the blessing ceremonies, we ask that only those attending a ceremony visit the cemetery. Others please kindly choose another time to visit the ceremony. The candlelight service on Sunday and service on Sunday are public events and everyone is welcome.
Schedule of events for Spring ceremony weekend 2022** - subject to change!
(events take place at the Latvian Memorial Park, 414 Bloomer Road, Tannersville, NY 12485)
Saturday, May 28, Individual urn blessings 2pm-6pm. Please register in advance. Candlelight service will follow at dusk.
Sunday, May 29, Individual urn blessings 10am-1pm. Please register in advance. A shortened service will take place at 1.30 PM.
• On Saturday and Sunday ROTA will be offering meals, please, kindly reserve: (518) 589-9878
The urn blessing ceremony will take place rain or shine; as a precaution, please bring rain gear! In the event of a severe downpour, we will wait until it passes and then resume the ceremony.
Regarding the cancellation of the May 2020 urn blessing ceremony:
Deacon Linda Sniedze Taggart and Dean Olģerts Sniedze write: It's with regret that we acknowledge that the current pandemic has also affected plans for the May 23/24 gathering at the Latvian Memorial Park in the Catskills. Because people travel from various locations around the country to attend, and also because there are usually large amounts of people in attendance, it has become evident that it will not be possible to guarantee the safety of all participants at this time.
We feel certain that we will gather at the cemetery again... to say farewell to our loved ones, to visit and honor those for whom the Memorial Park is their final resting place, and to strengthen each other with the love and support that is always a hallmark of our time together there. Until then, let us be connected in prayer, especially for those who are now faced with postponing the blessing of an urn. May peace be yours in these troubled times.
Now may the God of hope fill you with all joy and peace in believing,
so that you will abound in hope by the power of the Holy Spirit.
Letter of St. Paul to the Romans, 15:13.

Flower deliveries for the ceremonies can be arranged with Howards Florist - tel.: (518) 943-4080. (When ordering, please kindly indicate the number of the gravesite or urn space.) Their hours are M-F 10am-4pm and 9am-12noon on weekends. (If ordering at other times, a delivery charge may apply.)
Cemetery address:
414 Bloomer Road, Tannersville, NY 12485. Click for map ...
For further information, please call (518) 589-5597 (ans. machine has staff contact no.) or email us.
The Cemetery office is located at the LKIA center 'Rota' - 82 Rota Road, Elka Park, NY 12427 - tel.: (518) 589-5597, fax: (866) 899-0735.

Cemetery visitors are welcome at Rota - lodging and meals available. Reservations @ Rota can be made with Terēza - (518) 589-9878.
2020 Christmas wreath pictures
Currently more information can be found in the Latvian version of this site, we are working on the English version and it should be updated soon!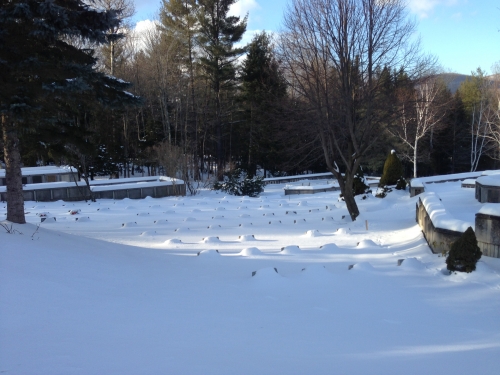 Winter snowfall, Latvian Memorial Park, January 2013.